Hi Friends!
Welcome back for more Cocoa Vanilla Studio inspiration!
Today I am sharing my very first creation with the stunning new UNFORGETTABLE collection!
There are so many gorgeous papers and endless possibilities with this collection, and I wanted to showcase a few of them!
Here's what I created,
"Bloom & Grow"
Oh wow! Isn't this just divine?!!
When I first saw the UNFORGETTABLE collection, I was immediately struck by the cleverness of Zoe Pearn - a floral collection that reflected both Spring & Fall! Florals and blooms to suit both hemispheres - sheer brilliance! I was also impressed by the whimsical & somewhat bohemian feel that UNFORGETTABLE evoked!
With Fall as my favorite season, I just had to create an Autumnal page for my sweet girl! Here's a closer look for you....
Gosh it's so pretty!!!
For that warm & outdoorsy feel, I used the lovely CV-UF008 NATURAL BEAUTY woodgrain pattern paper as my layout base. Next I added the two large concentric hearts to the center of the page. The larger heart is a beautiful vermilion floral pattern paper from the reverse side of CV-UF005 LACEWING. Did I mention it had my heart swooning?! Such a rich and elegant pattern design - LOVE!!! The smaller heart is cut from simple white cardstock. With a 'clean' white base, attention is drawn immediately to my photograph - perfect!
I positioned my darling daughter's picture onto a base of 3 x 4 note cards which I cut from pattern paper, CV-UF004 PRETTY BITS, and then glued the layers to the center of the page. For the embellishments tucked in and around my photo, I started with 3 larger fussy cut butterflies. These were also cut from the CV-UF004 LOVELY BITS paper (& yes, I used two sheets of this paper so that I could keep to my color scheme). Next I added that fabulous FLAIR BUTTON love this, & the two DIE CUT EPHEMERA pieces. And lastly, the CLEAR STICKER leaves tucked under the layers, and that super sweet butterfly to the bottom of the cluster. That smaller butterfly, and the others that you spy on my page, were all fussy cut from pattern paper CV-005 LACEWING - that paper may be my number one pick from this collection! SO incredibly beautiful!
Here's a closer view of the photo cluster details....
Simply stunning!
As you travel around the layout, you'll notice all the LACEWING fussy cut butterflies either tucked in or on the hearts. I include DIE CUT EPHEMERA blooms, foliage & even an arrow or two for added interest. CLEAR STICKERS also adorn the embellishment clusters and enhance the heart design.
The new FOAM TITLE STICKERS were the perfect go-to option for my layout title. The swirly font is super pretty, and the black foam is really striking on the woodgrain paper. I am also impressed with how easily they were to remove from the packaging, and to apply to my project. A new favorite product to the Cocoa Vanilla Studio range!
I arranged the 'grow' part of my title at the base of my layout, and adorned it with a couple of leafy fronds from the DIE CUT EPHEMERA pack...
Those FOAM TITLE STICKERS are really somethin'!
So many beautiful papers and embellishments!
For a finished look, I scattered a few white ENAMEL DOTS throughout the design.
Volia!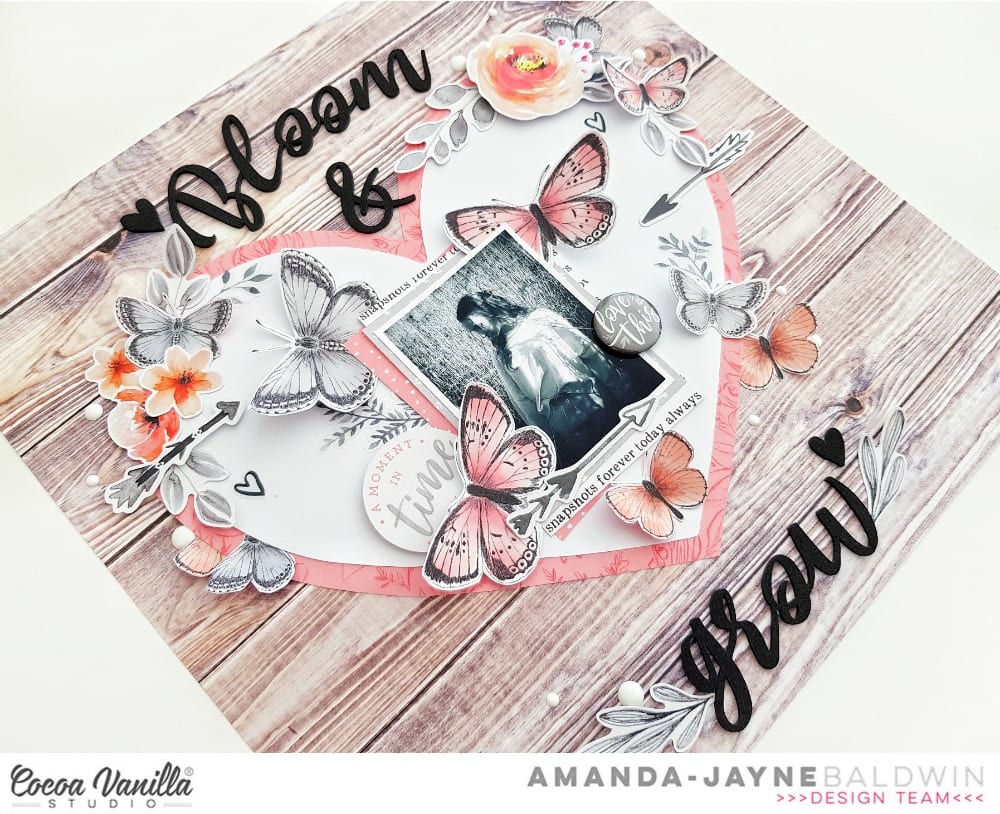 Simple, Timeless & Beautiful.
The new UNFORGETTABLE collection is breathtakingly gorgeous & will suit whichever season your documenting!
I hope my Fall themed page has inspired you!
Thanks so much for visiting,
til next time,